media—interaction—cybernetics
A talk and software demonstration prepared for a lecture series of the Digital Arts & New Media Program, University of California Santa Cruz - April 25, 2005
Do we really attain interaction with today's computers [HCI] or just interaction through computers—with our selves and with others [HtCI]? And what would it mean to converse with digital media, that is, to share goals and evolve knowledge?
Drawing on a history of researchers and examples of cybernetic embodiments/media, this lecture explores 'conversation' from the viewpoint of a rigorous theory of objective/subjective interactions.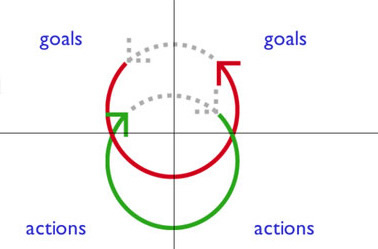 Via cybernetic models and a software demonstration, we will offer the concept of 'entailment' as a means of recasting how humans may create meaning at textual interfaces, including search engines. The text below offers one representation of entailments, used here to convey details of the talk and speaker biography.
Please note: the concept of entailments is not explained in the following downloadable presentation but rather was presented verbally during the talk. See Related Links for pointers to video clips on the subject and more about the software demonstration.
Download presentation of 'media—interaction—cybernetics' [PDF 7MB]. Best experience in Slide Show/Full Screen mode.
outline
media—interaction—cybernetics
cybernetics—point-of-view—models
feedback—science—cybernetics
origins—neologism—steering
system—goal—feedback—steering
wiener's subtitle—early intentions—first-order
evolution—conversation-focused—second-order
warren mcculloch—rise of AI—intelligent confusions
ross ashby—system limits—requisite variety—learning
von forester—circularity—understanding understanding
cybernetics—circularity—causality
media—interaction—cybernetics
machines—interaction—conversation
gordon pask—circular interactions—musicolour
gordon pask—circular interactions—typing
gordon pask—circular interactions—modeling
architecture—participants—'interaction'
history—cooperation—'relationship'
shared models—immateriality—'conversation'
dance—contention—shared outcomes
subjectivity—synchronization—coherence
clicking—action—intent
goal model—construct—interaction
feature proposal—cybernetic modeling—linking
meaning-making—participation—entailment
biography
computer science BSci—MIT Architecture Machine Group—theatre
cybernetics PhD—Brunel University UK—knowledge modeling—conversation theory
software consulting—individualization of user experience—browsing in the 80s
strategy—networked economy—business
internet startups—beyond the query— using the user—search-to-find-to-act
stanford university—cybernetics & design course—models for collaboration
www.pangaro.com/ue—user experience—philosophy—implementations
related links
Course Description, Introduction to Cybernetics and Design, Stanford University
Video Introduction to Entailments, from above Stanford University Course, Introduction to Cybernetics, 2001
THOUGHTSHUFFLER software description
Sky Ear by Usman Haque, an example of modern cybernetic art